We Believe Every Woman has the Right to Shine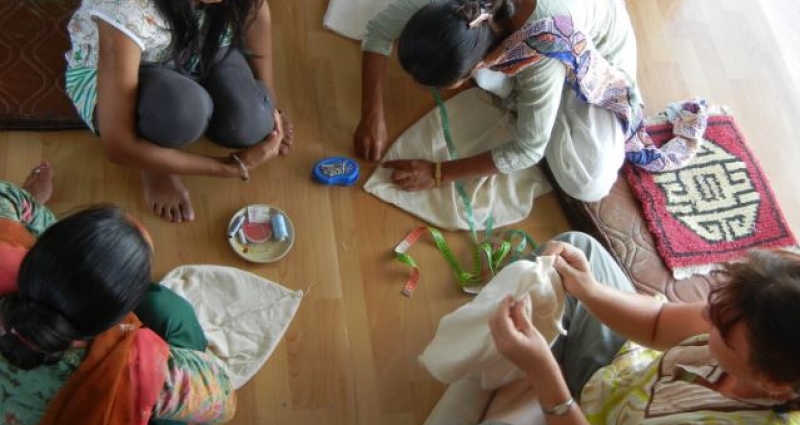 The inspiration for Kriayt Social Business began when Annie was volunteering with two orphanages in Nepal. In her own country she was director of a charity and heavily raising funds for the associated costs of the children. She soon learnt that there are over 500 orphanages in Nepal, yet less than 20% of the children were actually orphans.
Most of the children's parents were in their villages struggling with unemployment and poverty. Through research and contact with other children care organisations in Nepal it was quickly discovered that orphanages were the most corrupt and dishonest ways of caring for children Nepal. With her husband she decided to change strategy – find the children's parents that were in the orphanage and reintegrate them, and if needed continue supporting the family with necessities such as food & education. As a mother, Annie asked the Nepali mothers 'How did you give up your children?' Their response was heartfelt, it came from love. They had sent their children away to an orphanage with hopes that their children would sleep at night with food in their bellies and days were filled with schooling opportunities. Looking for a long-term solution, Kriayt was developed with the intention to tackle the root cause of the issue by providing an understanding of legal rights, skill-training, and employment opportunities to girls and mothers so they could support and keep their children.
After volunteering with other women's development projects in Nepal fulltime for almost 3 years, Annie noticed a need to develop a business model that empowered women by not just giving skills but offering employment. This was needed to generate a stable income for the women. The women could then meet their families' needs, but also acquire skills that encouraged their continuing earning potential. Annie felt a passionate responsibility to implement her years of experience running an Art teaching studio & several shops in her country. To create a sustainable and flourishing platform where Nepali women create their handmade products and connect them to the global market. Kriayt Social Business invests in the development of women with the long-term vision of encouraging self-sustainable, independent women. Hear about the women's stories, fall in love with and purchase their products. In this way they have the opportunity to directly contribute in supporting a stable future for themselves and their children which benefits the whole community.
Our method is to offer skill-training and employment to women from all backgrounds and social situations. We are devoted to reaching poor, marginalized and at-risk women in Nepal. We aim to help them avoid at-risk situations before they end up in them.
Wake Up and Spread the Creativity!
It was realised how important it was to raise awareness about social issues Nepali women face. Not just with people outside the Nepali borders but with the women themselves. A campaign was started, where we focus on social issues in Nepal. Educating the women on their rights regarding the issues and what is happening around them. We invite you our international audience to use your social influence to share the story from our campaigns.
LEARN MORE ABOUT WHAT WE DO
women empowering women
Visit Us in Nepal
'Realise, the power is in your hands to make a choice….. for change,
rely on your strength to make a change in your life.' This is the motivation
we instil in all women. Feel empowered while helping others empower
themselves. What can YOU do to contribute? Help us reach out to more
women in Nepal. Below are our FOR PROFIT tours that we invite you to
attend. Know that all profits are used to fund our programs, so by joining
us you have taken action to contribute and help our programs.